Most every parent knows the request for "I want bedtime stories, please." issued by their little ones. So here are three tips about bedtime stories that are fun for you and them.
1. Learn to tell stories and not just read them.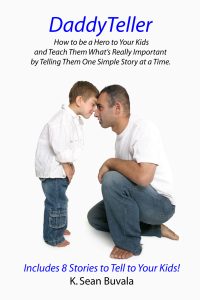 You are not limited to the books on your shelf from the bookstore or library. Stories existed and were passed on well before cheap printing was available. So put down the book and give your kids the gift of looking them in the eye while you talk with them. Learn to tell, not just read stories, to your children. Explore guides like the "DaddyTeller" ™ book that teaches Dads (and Moms, too) how to be heroes to their children while passing on family values through a straightforward story at a time.
2. Storytelling improves literacy and math skills.
You might be thinking, "Bedtime stories improve literacy? Continue reading "3 Things to Know About Bedtime Stories"