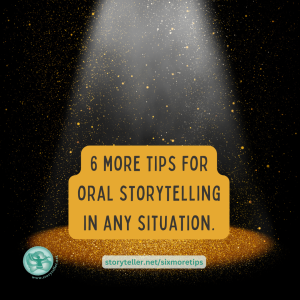 Let me share a few simple storytelling tips to strengthen your presentations. While these ideas are probably not brand new to you, I hope this list might make you think about your oral storytelling approach.
Do Just a Little More Research
From personal stories to world tales, there is almost always that "one more" detail or interpretation that can add more depth to your story. As a practitioner of oral storytelling, you'll be a better teller when you use a variety of sources to make your story more thorough. As you craft a personal tale, ask that friend for their insights into the tale that is part of your shared history. With world tales, there is almost always another variant of any tale you might encounter.
Take That Extra Practice Moment
Before you take the stage, stand up in the boardroom or call students to attention, take that extra moment to run through the events of your story. What happens from part A to part B to part C and onward? Use your time in