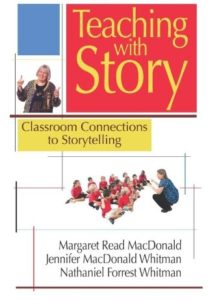 One of our joys here at Storyteller.net is finding the books that are the must-haves for storytellers in a variety of settings and styles. Along with Margaret Read MacDonald's "Storyteller's Start-Up" book, her new group-project book (with Jennifer MacDonald Whitman and Nathaniel Forrest Whitman) is a must-have for anyone working with children in the elementary-school range, which is about ages 5-12.
"Teaching with Story: Classroom Connections to Storytelling" is a strong book for teachers. Looking through our review copy, which was provided by August House Publishers, we were glad to find not only suggested storytelling techniques for teachers but also a very good set of stories for telling. Starting with chapter after chapter covering the "Seven C's of Storytelling" such as Curriculum, Character and Cultural Connection, readers dive deeper into the why and how of storytelling in the classroom.
Don't miss the very brief but important paragraphs about "story grammar" starting on page 47 of the printed book. While some may believe that "everyone" is a storyteller, good storytellers consciously understand the structure of story and how that effects and affects their listeners, helping them to be co-creators of the storytelling experience. Teaching this structure to all storytellers, regardless of age, is an important step in all of us having better experiences with stories.
Following the initial "Seven C's," you'll find a chapter on how to create your own stories. Most of what you find in this section of the book won't be new to seasoned storytellers, but it's especially good for educators new to intentional storytelling who want to learn how to tell a story and make it their own.
The last segment of the book deals with Research and Standards. Here the book shines in a different light as more attention is being placed upon "Common Core Standards." Backing up the fun of the first two sections of the book, the authors make connections to how science and research supports the use of storytelling in the classroom and its effect on learning and memory.
As with most of Dr. MacDonald's works, a set of learn-more resources (including our Storyteller.net site) is listed in the book as well as a complete index. This is a varied and interesting book that we think you'll use often as you search for curriculum and stories for your students.
**
This article first appeared in 2015.