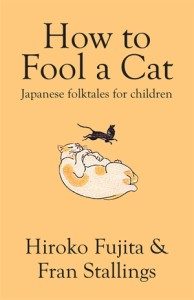 How to Fool a Cat: Japanese Folktales for Children" (find it at Amazon.com) by Fran Stallings and Hiroko Fujita is both entertaining to read and useful for families and classrooms. The book divides the many stories presented into like-minded categories for easy program building or for when you are looking for a specific theme.
We like the non-story parts as well. The comments from Fujita and notes from Stallings give you more background into the stories you will read and possibly retell. In each story, there is a generous sharing of words in Japanese to bring an authentic feel to those who are not familiar with the Japanese culture. The occasional storytelling tip is appropriate for these stories and useful especially for the novice storyteller. Those with more advanced experience as a performing artist will appreciate the brush-up that the tips provide.
Here is what we think you will really like: these stories, even in the written form, are active and visual, perfect for entertaining the young child or for your own amusement as you envision the storyteller sharing these tales. Use this book to help your research into presenting the stories or stories that are similar, although we think that for most U.S. audiences these stories will be brand-new. If you are working with young children, you'll keep this well-constructed book on the frequently-used shelf.
The publisher sent us a physical copy of this book to facilitate our review. –Storyteller.net Reviews.
****
This article first appeared in 2016.