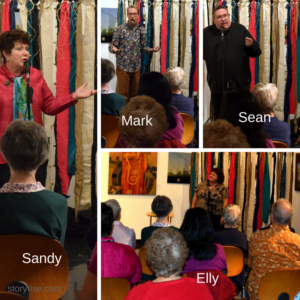 The West Valley Arts Council (WVAC) in Surprise, Arizona sponsored and evening of live storytelling for adults in their intimate and unique arts gallery they call the ArtsHQ. People from all over the valley gathered to listen to a fine mix of personal tales and folktales. Part of the WVAC's "First Friday" event, an audience gathered from all over the greater Phoenix area came to enjoy some light snacks, drinks and storytelling presented by internationally experienced tellers in a project called StoryRise. Recorded in March 2015.
We've presented the entire event in two parts below, in mp3 audio. We've also included a few "just the stories" recordings for a bit of shorter listening.
We hope you enjoy this latest Storyteller.net Amphitheater presentation of this storytelling podcast.
In Part 1, Sean Buvala introduces the night and tells a short story. Sandy Oglesby tells the personal tale of "The Phone Call," Mark Compton tells his personal tale of "Cat People," Elly Reidy offers her own personal tale of "The Pennies" and Sean tells the Irish folktale of "The Spirit Horse."
In Part 2, it's all in the style of folktales. Sandy tells "A Bargain is a Bargain," Mark tells "The Hunter," Elly tells "The Scholar and the Bird and Sean concludes the evening with the Grimm tale of "The Girl Without Hands."
In the remaining parts, we've posted just some of the stories individually.
Part 3: "The Phone Call" (Sandy)
Part 4: "Cat People" (Mark)
Part 5: "The Pennies" (Elly)
Part 6: "The Girl With No Hands" (Sean)
This presentation is ©2015 by Storyteller.net and the individual artists.