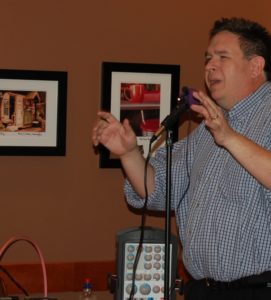 Think about storytellers you have seen. What do they do to bring the story to life? Who were your favorite professors, teachers, preachers, and politicians? What techniques did they employ to hold your attention, to make ideas come to life?
Different personalities tell stories differently. The most important thing is to find a presentation style that suits your personality. With this said there are a few general techniques to consider:
Use your VOICE to create characters, express emotions, and experiment with pacing, tone, accents and sound effects. Use your BODY language, facial expressions and gestures to convey the unspoken and reinforce the words you are speaking.

Use your IMAGINATION and all five senses to be in the tale as you tell it. The more real you can imagine it, the more real it becomes for your audience, even if it is a work of fiction.
Involve the AUDIENCE with simple rhetorical questions or complex sing-a-long songs. Within the body of the story allow them a chance to discuss a prediction or formulate a hypothesis.
Engage the audience as a partner in the telling of the tale. Use your voice, body, imagination and the audience to tell, not read, the story.
Beyond technique, the most critical element is your passion for the content. If you can tell the story in a manner that conveys this excitement your contagious enthusiasm will be the key to a successful telling.
****
This article was originally published in 1998 at Storyteller.net and is one of the first "how to" articles ever on the site. The article was composed by the staff of Storyteller.net