By: Tim Ereneta
Did you ever wish you were recognized as a storyteller regionally, or nationally? Did you ever think that your pathway to recognition depended on appearing at a storytelling festival? Did you ever ask how you might get to be invited to a festival, only to be told that the festivals only hires storytellers with previous festival experience? A conundrum, to be sure.
One strategy for storytellers to consider is to "go outside the lines," and develop experience at other performing arts festivals. One democratic avenue to consider in this regard is the Fringe Festival circuit.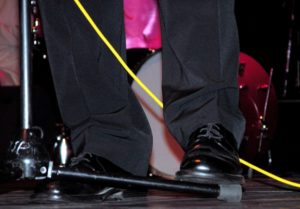 Generally, a Fringe Festival is organized as multi-venue festivals where dozens (if not hundreds) of performing arts companies stage their work. These festivals aren't limited to storytellers: in fact, they take all comers. Dancers, jugglers, magicians, theatre companies, burlesque troupes, stand up comics, improv troupes, rappers, poets, multimedia artists, and street performers fill the stage over a week or two. A Fringe is not the kind of festival with headliners, "first namers" (artists who are so well known you only have to mention their first name), or VIPs. In fact, the talent is usually chosen by lottery! If you participate in a Fringe as a performer, you are a special guest, but so are the dozens of other acts on the bill… and you were all chosen not for your artistic excellence but for your chutzpah that you believe you belong on stage. At a Fringe Festival, the emphasis is on quantity: there are lots of performers, and lots of shows. Shows are generally required to be under an hour, and ticket prices are kept low, to encourage audiences to take risks, and go and see something new. It's not uncommon for a Fringe audience member to see three or four shows in one night, all for less than a price of a single ticket to a regular professional theatre show in town.
Two analogies might help you picture a Fringe: If you can imagine the Storytelling Festival circuit as a nationwide chain of family-friendly restaurants (each independently owned and operated, but with exactly the same menu at each one, so you exactly what to expect), then the Fringe Festival circuit would be a franchise of eclectic pot luck dinners where the prices are fixed, but no one knows what will be on the menu until the chefs show up.
Analogy number two: Think of the storytelling festival circuit as network television, Fringe Festivals as YouTube. In the former, someone has decided on the programming for you, but in the latter, you can pick and choose from a wide variety of content, from amateur to professional, from good to mediocre to astonishingly awful– but the choice is up to you.
Fringe Festivals are held around the world, with a lively and very active circuit in Canada. To learn more, enter "Fringe Festivals Canada" or "Fringe Festivals US" into your favorite search engine. Fringe websites are not only a great resource to learn about the variety of genres, art forms, and shows within each one, but also the place to get instructions on how you can apply to be part of these celebrations of artistic freedom in the performing arts.
***
Tim Ereneta is an old school storyteller who brings to life forgotten fairy tales for contemporary audiences, in theatres, around campfires, and at Fringe Festivals. http://www.timereneta.com . You can follow him on Twitter: @tereneta
First appeared in July 2009. The contents expressed in any article on Storyteller.net are solely the opinion of author. Articles are under © and should not be used without permission of the author.
Contact us
if you have questions.