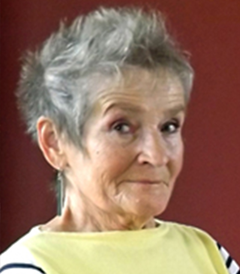 Professional Storyteller Carol Esterreicher especially loves to use word play strategies to "tickle" a tale. Spoonerisms, substitutions, omissions are among her tools she has used for over 15 years.
As a speech pathologist, and an active member of Toastmasters International, she has developed a close relationship with words! Fairy tales, Aesop's fables, urban legends, seasonal and holiday stories, and myths delight family audiences on festival stages and other settings. Carol's personal tales "tug at your heartstrings" calling to mind images, memories, and emotions we share as members of the human family.
In workshops, Carol generously shares handouts from her book, SCAMPER Strategies—Fundamental Activities for Narrative Development (1995). Carol is one of seven storytellers on the Utah Arts Council's 2007-2008 performing artists tour.
Quotes:
"I love to watch Carol as she plays with words while telling stories. Her listeners hang on her every word." –Suzanne Hudson, Utah Storytelling
"Your voice tone, animation, and repetition created an enchanting atmosphere." –Carolyn Flowers, Storyteller/Bend, OR
"Carol, I love the way you pace your story based upon the audience feedback. You know how to read your audience." –Janine Nishiguchi, former President of The Utah Storytelling Guild
"We appreciate you having taken the time to come on Christmas Eve (2004, 2005, 2006). Your wonderful talent added so much to the evening for our guests. We look forward to having you back! " –Jim Roberts, Solitude Mountain Resort
"What a gifted storyteller and what fun for the audience. It is wonderful when people share their talents so willingly for the enjoyment of others at Taylorsville Dayzz." –Marlene Biehler /Taylorsville, UT Arts Council
"Thank you for the wonderful job you did telling stories at our Pumpkin Patch event…." –Jan Harris, Director of Programs/This is the Place Heritage Park/Salt Lake City, UT
Hear Carol Tell a Story: "The Chrite Before Nistmas."
Visit her website at http://www.carolstories.com/
Contact Information:
Carol Ann Esterreicher
Draper, Utah 84020
Phone: 801-561-5669
E-Mail: carol2stories@gmail.com
***
Storyteller.net serves only as a directory listing for all tellers on our site. We do not represent or provide agency services for any teller. Storytellers listed have chosen to pay a fee to support Storyteller.net in exchange for their listing Contact the tellers directly for more information.