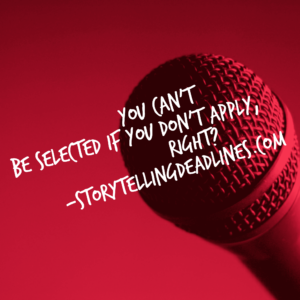 A List of Deadlines for Workshops, Events and More
This list is updated weekly. Scroll down to see the latest events. If none are listed, then no one has submitted anything. Here we will list upcoming deadlines for proposals or auditions for projects, festival and the like. that make use of the oral storytelling tradition. We'll strive to make this list as accurate as we can. Not all submissions will be posted if they do not intersect directly with oral storytelling. Do not contact us about any event listed, we are only the messengers of the dates and do not represent in any way, shape, form or manner the events listed. Use your own wise judgement in which events you contact or submit proposals.
How To Submit a Date for This List!
To submit your event deadlines for consideration, please fill out the form below. There is no charge for a basic listing assembled by our team. If you want specific or additional wording, a nominal fee will apply. We'll contact you. Otherwise, no charge. You can always tip in the "tip jar" over >>> there on the side (Donate Button). For $20USD, we'll promote your request like it was our request across all of our platforms.